Our Architect had the plans drawn up for refurbishing the property and building a link extension to the existing garage. We priced the project on a tendered basis against 2 others and our proposal was accepted.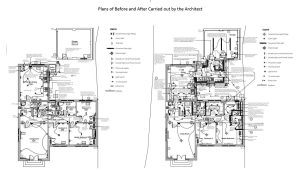 Outside
A time line of the project. We bug up the existing patio and drive, installed new supporting foundations and walls to architects and structural engineers specification.
Extension
The existing property is 40 years old we matched the stone work so that it blended into the existing property and matched the roof tiles accordingly.
Alterations
We had to take out 5 windows and replace or remove them to allow the works to be completed. the photos below show the window removal and the progression to turning it to a conservatory.
Internals
We refurbished the whole property, including new central heating, new wiring with a backup generator incorporated into the circuit. We plastered and painted the walls and installed new finishes throughout including Karndean flooring to the  Kitchen and Utility room.
Kitchen
The Kitchen was removed and new windows installed to brighten up the room
DDA Bathroom