Our client wanted to fully refurbish the property turning a 5 bedroom property into a stylish student let. We stripped out the whole property and carried out structural works to upstairs rooms to allow us to incorporated 2 en-suites into the existing layout.
We installed new spot lights throughout and installed internet enabled flat screen TVs to all bedrooms.
Outside
We repaired the drive and landscaped the over grown garden. We also allowed to point the chimney but on closer inspection we needed to rebuild the chimney. The fencing was repaired and stained to match.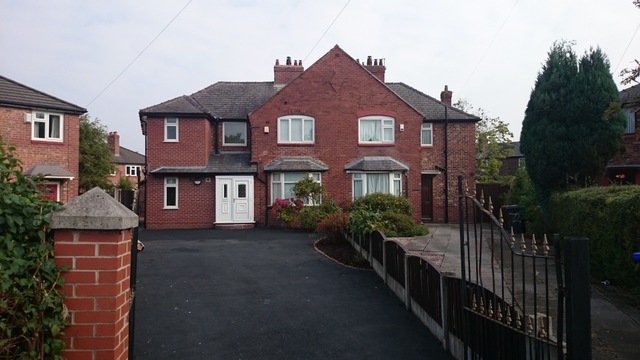 Bathrooms
The existing bathroom suite was removed and replaced with a shower and retiled and freshened up.
Kitchen
The existing kitchen was removed and we installed a 2 tone kitchen with granite effect worktops, to give a clean and polished look.
Lounge
The lounge had new flooring, spot lights, internet flat screen TV  and a "groovy" paint finish. The transformation is plain to see, even though my final photo is just before we removed the dust sheets from the sofas.
Conservatory
We emptied the conservatory, removed the existing tiles, cleaned off 10 years of dirt and brown tape and re-tiled the floor and repaired the roof.
Bedrooms
We painted the property throughout and installed new flooring. Our client supplied graphics for the walls which we installed. All the bedrooms had internet TV's and new furniture.
We provided the relevant test certificates including Gas Safe, NIC Electrical Certification for the new circuits and lighting.
Since our work here our satisfied client has called us to carry out further works, including a call out to replace some locks.